I am so proud of our team. After a hard but strong few years I felt the time was right to put us forward for recognition. The good news is we've been shortlisted for the Motor Trader Independent Garage of the Year award!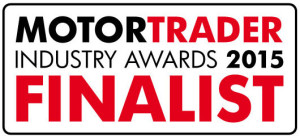 After winning the West Yorkshire Trading Standards award for Excellent Customer Service every year since we joined, we are confident about the customer service we deliver but this is different! Every aspect of the business will be scrutinised especially a subject that is close to my heart; innovation!
I have always intended to prove there is another way to operate in the motortrade, to demonstrate quality and groundbreaking customer service can be delivered consistently.
So will our efforts be good enough? I can't pretend I am not excited and nervous ahead of the judge's visit today.
I just hope the hard work and thought we've put in to making Motor Marque different are picked up. I haven't yet found another garage with a Customer Shuttle Service or a functioning kid's play area (always a hit when busy parents collect the family car).
Our customers say the whole look & feel of Motor Marque is different but I always want to back that up with substance. That substance is defined by aiming to consistently deliver the absolute best, innovative customer service anywhere across any industry.
Wish us luck!
The Motor Trader Awards will be held on 8th July 2015 in London at the Grosvenor Hotel for more info see- http://awards.motortrader.com