Now the days are getting shorter most of us will soon drive to and from work in darkness.
Recently I've seen more and more cars with lights out, sometimes I think motorists just don't realise how dangerous this is! Of the combinations of lamps out the most dangerous is when the offside or drivers side front is not working. An oncoming car can look like a motorbike or cyclist which could lead to a nasty surprise or head-on collision. For that to happen not only has that driver not noticed they have on headlight bulb out but also the 'back up' sidelight bulb must also have gone pop.
When one or more lamps aren't working it makes judging the speed and distance of on-coming vehicles very difficult. So if someone has recently pulled out in front of you, check you own lights to be sure everyone has chance to see you.
Obviously it's more apparent when bulbs are out at this time of year but bulbs also spend more time on meaning they are more likely to blow, especially in the cold damp atmosphere. As well as the obvious bulbs out causing difficulties and danger, headlamps can be out of alignment dazzling oncoming traffic. Xenon or 'High Intensity' headlamps are fitted with a self levelling system to help avoid dazzling other motorists but these systems can fail.
For your own safety and the safety of other road users it is well worth a few minutes carrying out a quick check. Combine a lights check with warming your car through; Get the engine running, bob the lights on and have a quick walk round to check you have two front side lights, two rear tail lights and reflectors. Then headlights on and check they're clean and they operate. By the time you've done your car should getting nice and warm!
Top Tips:1.Pull the car up to about 3 yards/2 metres to a flat wall or garage door, the lights should form a defined beam pattern as seen here-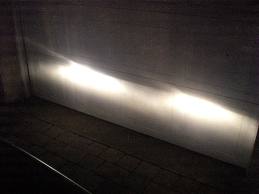 At that distance the top of the beam should be approximately knee height. The 'kick up' must be to the left of the pattern. If the pattern is not well defined or the beam is high then you could badly dazzle other motorists.
2. Many people ask me, 'How can you check the Brake Lights on your own?' It's a good question, the answer is easy though. When you've check the front lights now carefully reverse the car up to the same wall or garage door, park up, handbrake on. Apply the foot-brake on and off and look in the rear view mirror or wing mirrors, you will clearly see the red glow from the brake lights. You should have at least two and usually a third, high level brake light. As a bonus you will have also just checked your reverse lights without realising it! These measurements are only a rough guide and if in doubt have your headlamp aims checked by Motor Marque using the correct MOT approved equipment.
These few simple checks can be done by you at home or by us as part of a Free Visual Health Check  and could save you from a nasty accident. If you find a bulb out call in to have it replaced while-you-wait or if you prefer see my video tips on how to change bulbs.